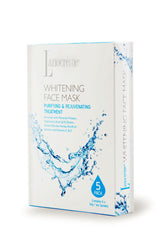 Lanocreme Whitening Face Mask - 5 pack
This whitening facemask is specifically formulated to lighten the skin, fade sun spots, reduce irregular pigmentation and scaring, offering a lighter and more even skin tone whilst delivering optimum nutrition to the skin for a more youthful complexion.
Enriched with the very finest natural New Zealand ingredients, this hydrating and purifying mask powered by Active Manuka Honey and Kiwifruit Extract will treat the face, penetrating deep into the skin to rejuvenate and repair, leaving it in optimum condition.
Contains 5 x 25g sachets.
INGREDIENTS: Aqua (Water), Polyacrylamide & C13-C14 Isoparaffin & Laureth-7, Magnesium Ascorbyl Phosphate, Placental Protein, Hyaluronic Acid, Ubiquinone (Coenzyme Q10), Hydrolyzed Elastin, Leptospermum Scoparium Mel (Active Manuka Honey), Actinidia Chinensis (Kiwi) Fruit Extract, Hydrolyzed (Marine) Collagen, Tocopheryl Acetate (Vitamin E), Ascorbic Acid (Vitamin C), Benzyl Alcohol & Salicylic Acid & Glycerin & Sorbic Acid
EXP: 11/2023